All in One – Website Design & Online Solutions for Charities, Community, Voluntary organisations
Complete Charity Website Design
Our ALL IN 1 groundbreaking online charity website solution combines all these vital online services into one simple, manageable platform
Great support, clear affordable pricing, offering significant cost savings compared to the typical costs of purchasing separate services from different vendors.
All services work perfectly together on your site – pick from a standard set, (Website, Donations & Email) or add on any you need (Surveys, Recruitment etc) – we custom design your Charity Website, and integrate the services into an All-in-1 system that works brilliantly for you! Plus we offer free maintenance, hosting, security and updates for the lifetime of the site! You never need to worry about your site being hacked or backed up again!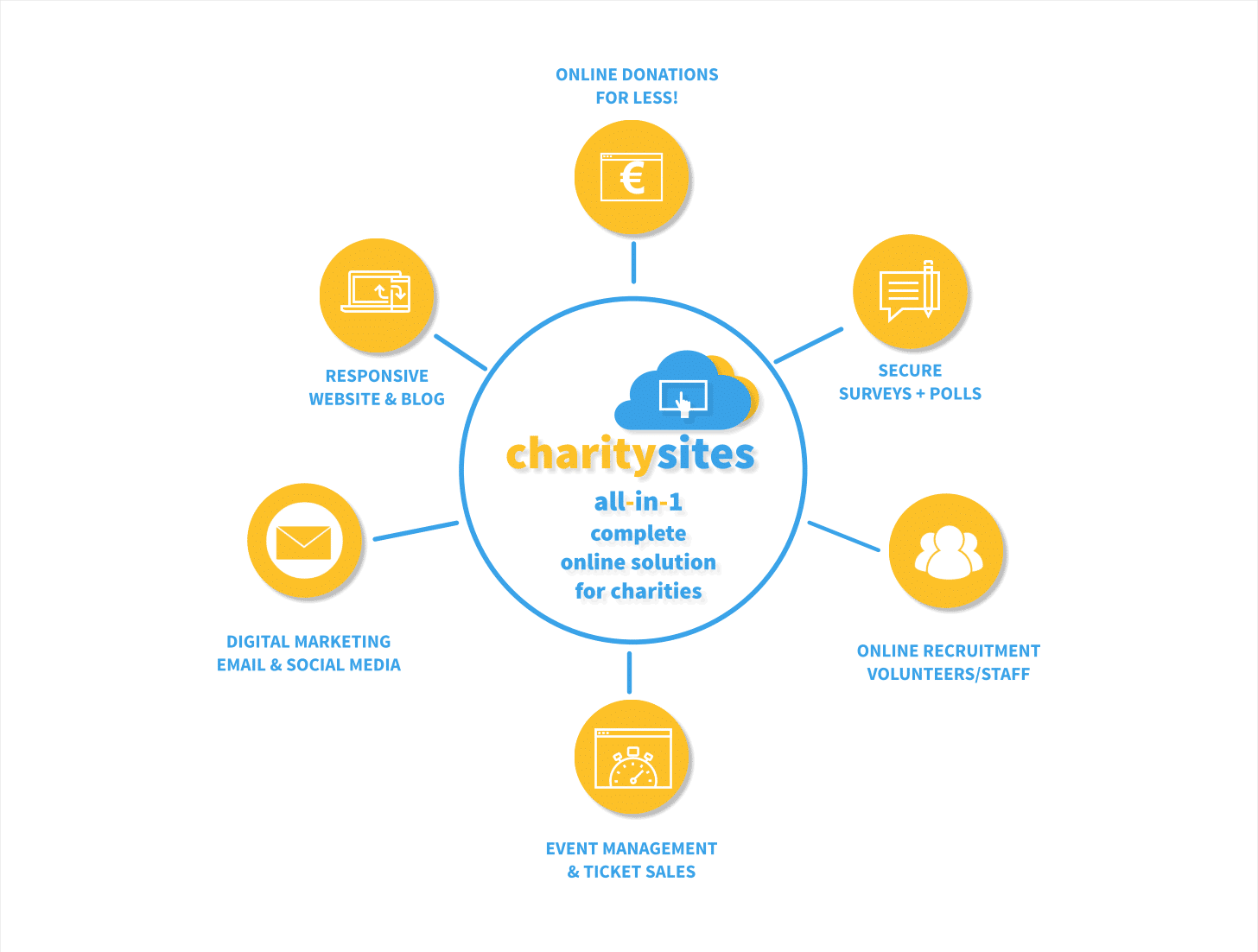 Ready to start reducing your Webite, Donations, Surveys, Recruitment and Digital Marketing spend and save time and headaches?
BEAUTIFUL RESPONSIVE CHARITY WEBSITE & BLOG
Future proof website and blogging platform, built on the world's most popular CMS,  providing a fully expandable system to grow with your organisation, helping you win supporters and get your message out there more easily, professionally and affordably than ever before!
LOW COST CHARITY DONATIONS
FREE WITH YOUR NEW WEBSITE – BUILT IN, ZERO DEDUCTIONS FROM DONATIONS!*
PayPal, Credit Card and Offline Donations Manager, add donors to email mailing lists, one off or recurring donations, multiple fundraising events with dynamic charts to show progress towards fundraising goals. Full reporting and data export for financial reports and better governance.
SAVE A FORTUNE ON YOUR DONATIONS COSTS!
*PayPal or Stripe will charge their normal transaction fees but unlike most if not all donation and fundraising solutions currently in Ireland, we deduct nothing from your donations (many services are charging 5% and 6% on top of annual fees!) and we charge no ongoing fees, (annual maintenance is recommended for support and updates but is a low cost optional extra).
TAKE CREDIT & DEBIT CARD DONATIONS ONLINE, VIA PayPal or Stripe
Our donations software has a huge set of powerful features, to manage your donations, send thank you emails, produce financial reports and much more.

For all the features see: https://charitysites.ie/online-charity-donations-software/
CHARITY SURVEYS & POLLS
Fully featured, run secure surveys and polls with your stakeholders, service users, staff or public with great reports, built in!
Join nonprofit organisations worldwide that use our next generation online survey software to get donor feedback, run employee and volunteer surveys, and do community and sector research. Whatever your survey requirement, this software can handle it and Charities and Non Profits qualifiy for a free standard licence, or half-price pro licence.
Our powerful Survey Software is integrated right into your website and makes it a breeze to produce fantastic polls and surveys that really engage and will inform you and your Board! See more on our online charity surveys page
CHARITY EMAIL MARKETING SYSTEM
Send beautiful effective branded Charity email campaigns and built your lists with the market leading MailChimp software (2000 subscribers and 12,000 emails per month for FREE- fully branded and integrated into your website!)
We've integrated the world's leading email marketing software, MailChimp, right in to your Charity site, and we'll even get you started  by setting up your Charity branding and beautiful mobile responsive email templates!
Your Charity can get up to 2000 subscribers, and can send 12000 emails a month for FREE!
CHARITY EVENT MANAGEMENT & TICKET SALES
Fully featured system allows you to advertise your event, confirm attendees and sell tickets online for your Charity Fundraising Event – Built in! With Calendar, Social Sharing, and Ticket Sales system, by PayPal and Credit/Debit card!
ONLINE RECRUITMENT SYSTEM - VOLUNTEERS & STAFF VACANCIES
Manage your online vacancies for Staff and Volunteers transparently and automatically.  Send automatic email responses when applicants reply, and add interested people to your mailing list.  Applicants can upload CV's, and download and complete application forms online.